Campus Instant Image
Online Services(Chinese)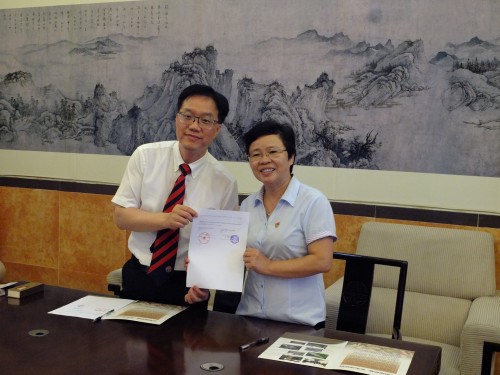 Upon invitation by the Liaison Office of the Central People's Government in Macao, Pui Ching Middle School of Macao and Guangya Middle School of Guangzhou conducted a contract-signing ceremony in Guangzhou today and became sister schools.  Directors and teachers that participated in the ceremony with Principal Kou Kam Fai and Vice-Principal Chan Keng Lim included Director Lam Kin Pong, Director Wong Kam Fong, Ms. Van Sok Leng, Mr. Wong Chan Lam, Mr. Ku Seng Wai, Mr. Chong Chi Cheng, Ms. Chio Kit U, and Mr. Ieong U Hang. 
Guangya Middle School was founded in 1888 on the principles of breadth of learning and integrity of character.  Guangya boasts a strong faculty, excellent academic results, and a beautiful campus.  Upon arrival, our team was given a warm welcome by teachers and students of Guangya and taken on a tour of the school before the contract-signing ceremony.  At the ceremony, Guangya Principal Ms. Ye Li Lin shared the school's education principles, direction of development, and curriculum design with us, opening a new chapter in the relationship between the two schools.
Representatives of the two schools proceeded to lunch shortly after the ceremony and furthered their exchange on pedagogical issues.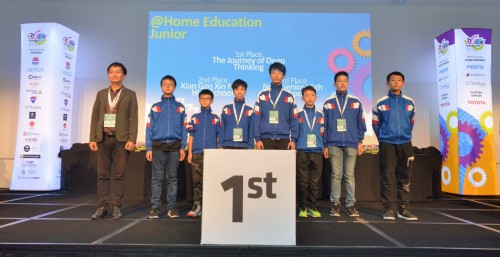 Junior high students Lei In Hei, Mok Chi Kin, Leong Chi Kio, Wong In Long, Chai Chan On, Lao Meng Hei, and Cheang Seng Hei attended the RoboCup 2019 Sydney Junior Leagues with their instructors Mr. Lao Kun Wa and Mr. Lam Kin Un and won the world general championship in the RCJ@Home Education Category.
The competition required four tasks of the robots, including picture and voice recognition, object-fetching interactions, order-taking service in restaurants, and innovative applications.  The tasks involved abilities such as language recognition, facial recognition, robot vision, and obstacle avoidance.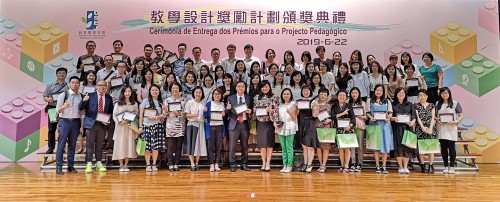 The 2017/2018 Award Scheme on Instructional Design held by the Macao Education and Youth Affairs Bureau had its awards ceremony this afternoon.  Out of 161 participants, Pui Ching teachers won a total of 17 Distinction awards, 33 First Awards and 17 Second Awards.  
Three Prizes for Active Participation were awarded at the ceremony and Pui Ching teacher Lam Ion was one of the award winners.  Pui Ching had the highest ratio of teacher participation among all schools in this year's award scheme and received the Active Participation Award.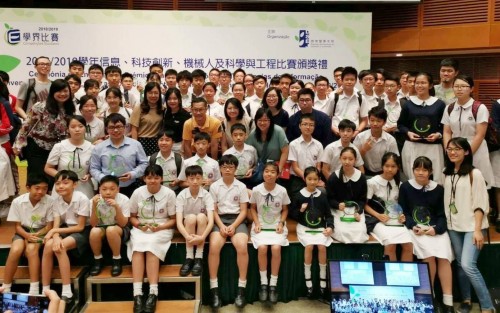 Pui Ching teachers and students attended the awards ceremony today for the 2018/2019 Information Technology, Technological Innovation, Robotics, and Science and Engineering Fair held by the Macau Education and Youth Affairs Bureau.  Among the many award winners from Pui Ching, Lei In Hei and Mok Chi Kin were invited to demonstrate their Smart Ark Emergency System at the ceremony. 
Pui Ching students also attended the NOC Macao Regional Competition for Micro-Video Creation hosted by the Macao Education and Youth Affairs Bureau and co-organized by the Computers Association.  Senior 1E students Kuan Ka Kei and Loi Weng Ian, and Senior 2D student U Weng Lam won the Second Place in the Senior High Category with their work "Can't let go".  Junior 2B students Chan Si U, Ngan Chon Wai, and Wong Tan I won the championship in the Junior High Category with their Happiness Notebook.  Junior 2B students Ng Suet I, Leong Weng Ian, and Chio Chi Ian won the Second Place in the Junior High Category with their Girl who Gives 'Likes'.
The award winners will be representing Macao in July in the 17th National Secondary and Primary School Student Information Technology Innovation Fair to be held in Zibo, Shandong Province, China.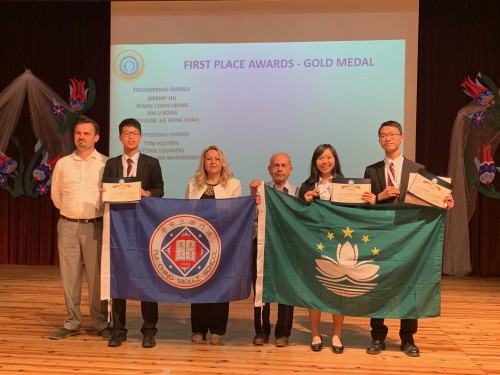 The 2019 OKSEF International Science and Engineering Fair was held in Izmir, Turkey from June 11 to 15.  Senior One students Wu Kuan Choi, Leong Wang Chon, and Kong Sin U worked under the instruction of Mr. Chan Ka Kong and studied a bifunctional oxygen reduction catalyst derived from a metal organic framework and its application in zinc-air battery.  
The student contestants presented their work in the Engineering and Energy Category, the most competitive category.  They introduced their product and answered various questions from the judges, finally winning the Gold Award, the highest award in the competition.  This has been the first time contestants from Macau won the award in the competition.  Congratulations to our award winners!