Campus Instant Image
Online Services(Chinese)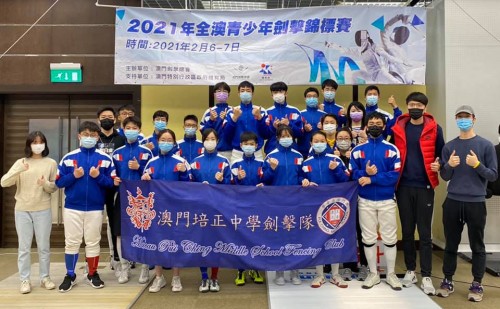 The Pui Ching Secondary School Fencing Team excelled in the 2021 Macao Youth Fencing Tournament last weekend.
Senior 2D student Lo Cheok Ian and Senior 1A student Tam Cheok Long were interviewed by CTM after the competition and expressed their gratitude to the school and their coaches for their continual support and encouragement.
Award-winners are as follows:
Men's Epee:
Champion: Tam Cheok Long (Senior 1A)
Second runner-up: Song Ka Weng (Senior 1B)
Women's Epee:
Champion:  Lo Cheok Ian (Senior 2D)
Men's Saber:
First runner-up: Che Chou Kit (Junior 3E)
Second runner-up: Wong Ka Iao (Senior 3E)
Second runner-up: Sam Ka Lok (alumnus)
Women's Saber:
Champion: Leong Chi Kuan (alumnus)
First runner-up: Wong Teng Mei (Senior 3C)
Men's Foil:
Second runner-up: Chou Pok Iong (Senior 1A)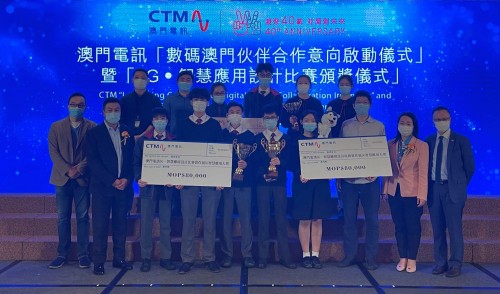 To encourage research in 5G technology and promote the design of smart apps to facilitate work, life and entertainment (such as apps for smart finance, smart health, smart senior care, smart education, and smart travel), CTM held the 5G Smart Apps Design Competition.  Pui Ching Senior 2 students Sin Ka Chon, Lei In Hei, and Mok Chi Kin designed the Service Robot for Seniors in the Home; Senior 2 students Leong Nga Chi and Tang Hou Fong designed the Aircraft Inspection Robot.  The two groups won the two highest awards in the Hands-on Category.  Senior 3 students Loi Weng Ian, Choi Tin Chi, Chan Ka Hei, and Chong Sio Weng won the Merit Award in the Conceptual Category with their Smart 5G Delivery Robot.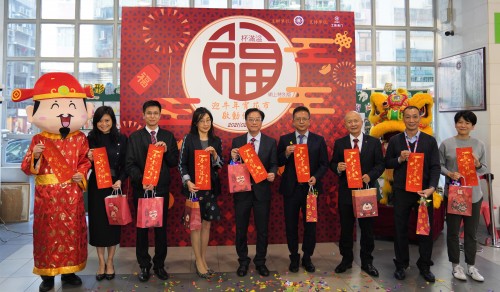 Pui Ching Middle School held the opening ceremony for the Year of the Ox Lunar New Year Fair on February 4.  To comply with social distancing regulations, this year's New Year Fair was held online.  It gave students an opportunity to experience traditional Chinese culture and put into practice the knowledge they learned in the classroom about entrepreneurship. 
Principal Dr. Kou Kam Fai, Vice-Principal Mr. Kuok Keng Man, Vice-Principal Dr. Chan Keng Lim, and various school administrators attended the opening ceremony with General Manager Mr. Lo Seng Kong and Deputy General Manager Mr. Chan Sam I of the retail business department of the Industrial and Commercial Bank of China.  Dr. Kou mentioned that students benefited much from the Spring Festival Fair Marketing Curriculum jointly opened by Pui Ching and ICBC.  This year presented a new challenge to students as the New Year Fair was moved online, but the challenge gave students a great learning opportunity and allowed them to assemble student-designed products into fortune bags to be sold online.  The fortune bags were received well since their launch and were sold out quickly.  
The Lunar New Year Fair gave students the opportunity to combine their knowledge in business, design and science, visual arts and STEAM and apply it to the planning and execution of business projects in real life. 
As usual, proceeds from the Pui Ching Lunar New Year Fair go to charity purposes.  It is hoped that the event can not only allow students to learn from practice, but also spread love and warmth to those in need.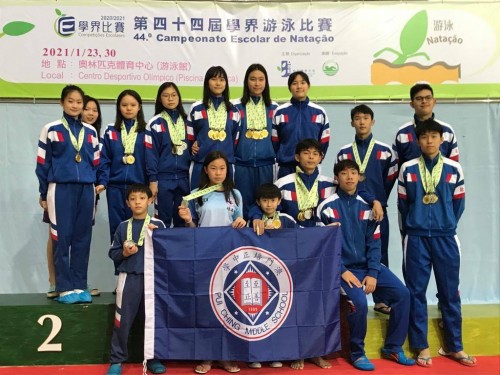 The 44th Inter-School Swimming Competition was held on January 23rd and 30th, 2021, at the Macau Olympic Pool.  36 schools and over 450 student athletes entered for the competition.
Pui Ching students won nine gold medals on January 23rd and nine more gold medals on January 30th.  Student athlete Kuok Hei Cheng won two gold medals and broke two records on January 23rd and won three gold medals and broke two records on January 30th.  Her relay partner Cheng Weng Chi also received two gold medals and broke two records.  They worked with their teammates Kuong Sin Ian and Lei I Chi in the Women's Category B 4x50-meter medley relay and won the championship in record-breaking time.  In the swimming competition this year, Pui Ching won a total of 57 medals (including 18 gold medals, 22 silver medals, and 17 bronze medals) and broke six records.
Students who won gold medals this year included
--Cheng Weng Chi and Kuok Hei Cheng, who were awarded five golds and broke four records,
--Kuong Sin Ian, who was awarded three golds and broke two records,
--Lei I Chi, who was awarded two golds and broke two records,
--Ng Chi Hin, who was awarded two golds,
--Lao Meng Chak, Ieong Sao Wai, Chan Ka Hei, Wong Hoi Tong, Leong Hei Long, Ian Hio Fu, Chang Cheok Him, Chu Ngou Hei, U Cheng Hou, and Wong Hou Cheng, who were awarded one gold.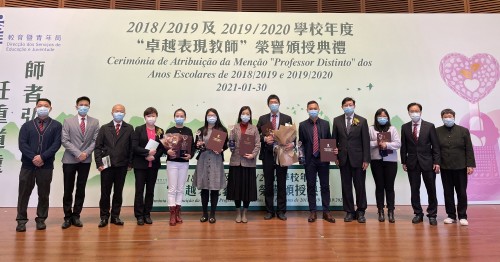 The Special Administrative Region government conferred the Excellent Teacher Award to teachers with outstanding contribution to the education of Macao.  The Education and Youth Affairs Bureau held the awards ceremony for the 2018/2019 and 2019/2020 academic years at the Macao Science Center on January 30, 2021.  Teachers of Pui Ching who were conferred the award included Leong Kin Wa, Leong Ieng Ieng, and Man Hou Nin for the 2018/2019 academic year and Sio Man, Cheong Wai Man, and Mak Chi Kei for the 2019/2020 academic year.