Campus Instant Image
Online Services(Chinese)
Vacancies for the academic year 2022/2023
We are looking for innovative and collaborative practitioners for the position of Kindergarten/ Primary English Teacher.
Duties
- Teach English with multi-media teaching resources or e-learning platforms 
- Help build a language-rich school environment to facilitate English language learning
- Organize, support and take part in school events, outings and activities
- Assist in developing English curricula
Requirements
- A university degree and preferably teaching qualification
- Experience in teaching English to kindergarten/ primary school students is preferable
- Responsible, energetic, patient, and passionate about teaching young learners
- Good organizational and communication skills
- Possess Macau ID
- Fluent in English, preferably native and / or near-native
Please send your cover letter and resume to the Assistant to Principal, Avenida de Horta e Costa, No.7, Macau or kwong@puiching.edu.mo.
All personal data collected will be used only for Pui Ching Middle School recruitment.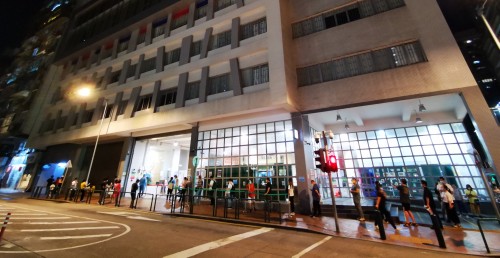 The Pui Ching Covid testing station concluded its month-long testing period on August 2 at 10pm. The government closed twelve of the city's Covid testing stations on August 3, including the Pui Ching station and ten other stations located within schools.
After the closure of the stations, residents can get their Covid test at other testing stations, such as that at Tap Seac Gallery, Mong-Ha Villas, and Flora Park.
The school will be arranging for teachers and students to return to school next week to pick up their belongings from the classroom.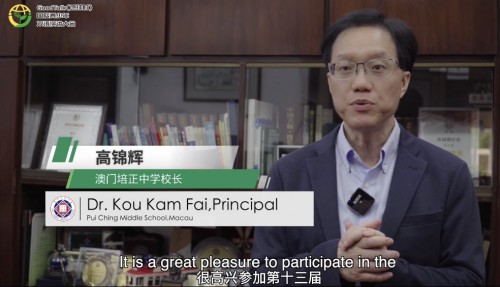 The 13th Good Talk (Global Village) International Children and Youth Bilingual Speech Conference concluded today.  The conference was held online due to the pandemic, but this did not diminish the enthusiasm of the participants.  Online activities such as "The Forbidden City: Time Travel Through 600 Years of History" and "Cloud Research" allowed students to learn about our country's culture, traditions, and technology as well as improve their presentation skills while sitting in the comfort of their own home.  Award winners from our school are as follows:
Outstanding Youth Presenter's Award Winners:
(Pui Ching students won the greatest number of the award among all participating schools in the country.)
Primary School Category: Lo Tin Iat (Primary 6A), Cheong U Tang (Primary 6B)
Junior High Category: Chang Wai Pan (Junior 1A), Ka Chi Ngou (Junior 2E)
Senior High Category: Fong Hoi Io (Senior 1B) (The only award winner of the highest award in Macao)
Among the award winners, Primary 6B student Cheong U Tang, Junior 1A student Chang Wai Pan and Senior 1B student Fong Hoi Io have been invited to the Asian Games offline events next September.
Excellent Youth Presenter's Award Winners:
Primary School Category: Wong U Sam (Primary 3B), Chao Mut Ham (Primary 4A), Lei U Hon (Primary 6A)
Senior High Category: Cheong Ieok Si (Senior 1C)
Most Promising Youth Presenter's Award Winner:
Primary Category: I In Hei (Primary 1E)
Congratulations to our many award winners!  Instructors of the award winners included Mr. O Chi Wa, Ms. Cheng Ka Lai, Ms. Kou Mei Kei, Ms. Tong Wai, Ms. Ng Iok Kun, Mr. Loi Man Hou, and Ms. Si Hong Peng.
Due to the recent Covid-19 outbreak, the Education and Youth Development Bureau announced the early end of the 2021/2022 academic year on June 22. 
Parents and students should observe the government's regulations for disease prevention and control and pay attention to other notices from the school.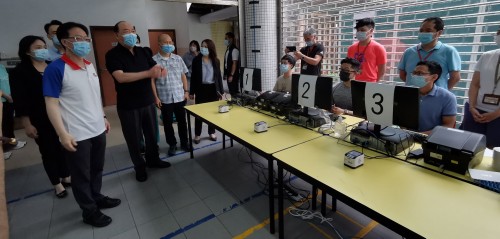 Various Covid testing stations in Macao went into operation at noon today.  Chief Executive Ho Iat-Seng visited the Covid testing station at Pui Ching this morning and cheered for the staff and volunteers from Pui Ching and other schools and organizations.  Parents from our parent-teacher association also helped out at the testing station.