Campus Instant Image
Online Services(Chinese)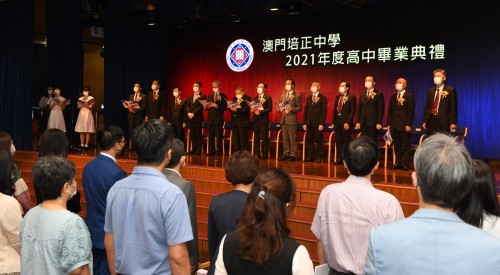 The Senior High School Graduation Ceremony for the 2021-2022 academic year was held at 9:30am and 3:00pm today in the assembly hall.  The school's board of directors, principals, directors, teachers and parents bore witness to the precious moment for our 220 graduates.
School Chancellor Dr. Lo Weng Cheong congratulated the graduates for their outstanding achievements.  Pui Ching graduates have always maintained a 100% university entry rate.  This year 101 graduates have been exempted from the university entrance exam and accepted into 40 universities in mainland China.  57 graduates were exempted from the entrance exam and offered a place in universities in Macao.  Among them, 46 graduates were accepted into the University of Macao on a scholarship.  Our graduates have also received either conditional or unconditional offers from 30 of the top 50 universities listed in Times Higher Education, including Oxford University, Imperial College London, Stanford University, and Johns Hopkins University.  Dr. Lo mentioned that despite the pandemic, teachers and students are still achieving great results in various online regional and international competitions and exchange activities.  He closed by encouraging the graduates to serve their country and the world with integrity and compassion.
Senior 3 graduates Ao Kam Kuan and Pao Hon Lam respectively spoke as valedictorians in the graduation ceremony in the morning and afternoon.  They extended their gratitude to the Macao S.A.R. government for its support, teachers and parents for their guidance, and fellow students for their friendship.  Principal Kou Kam Fai mentioned that this year's graduating class had experienced the trial of the pandemic and encouraged them to look at every crisis with positivity.  The graduation ceremonies ended in the school anthem and the blessings of the loved ones of the graduates.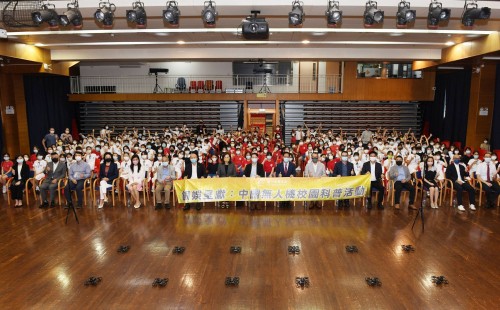 Primary 6 students participated in the China Unmanned Aircraft School Promotion Activity this afternoon.  The event was hosted by Galaxy Entertainment Group and received great feedback. 
The promotion activity introduced the history of unmanned aircrafts, their structure, navigation principles, and their application in agriculture, transportation, contingency plans and facility inspections.  Students also had the opportunity to watch two live drone shows involving 8 and 12 unmanned aircrafts respectively.
After the drone shows, technicians gave the students lessons on how to fly the unmanned aircrafts.  They concluded the event by demonstrating drone tricks such as rolls and flips.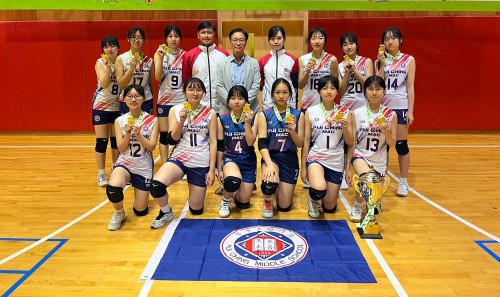 The Inter-School Women's Volleyball Category B Finals were held tonight.  Team A of our Women's Category B Volleyball Team outplayed Santa Rosa de Lima English Secondary School by 26:24, making this year the eleventh time we were crowned champion in the Inter-School Women's Volleyball Competition!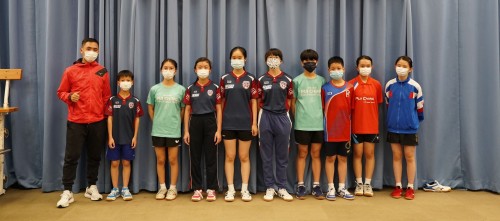 The Macao Youth Table Tennis Singles Competition was held for three days.  Award winners are as follows:
Men's Category:
Second place: Chan Hin In
Sixth place: Cheong Sio Fong
Eighth place: Kuan Io Seng
Ninth place: Tang Ho Fong
Tenth place: Lam Keng Cheng
Twelfth place: Mak Chi Chong
Women's Category:
First place: Kuan Cheok Lam
Second place: Cheong Chi Hun
Third place: Lei Man In
Fourth place: Lei Kuai Wai
Seventh place: Choi Ka Ian
Eighth place: Leong Hoi Cheng
Ninth place: Sou Chi Ieng
Twelfth place: Lao Chi Ieng
Thirteenth place: Choi Ka Iao
Fourteenth place: Tam Man Cheng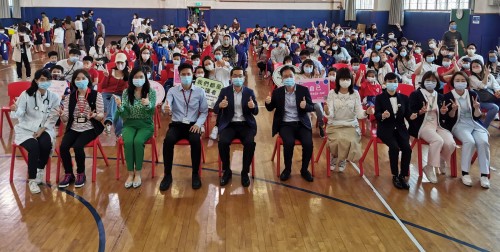 To lower the risk of a possible outbreak of the pandemic and to protect the health of children and youths, the Health Bureau has organized a special vaccination session at the schools, providing vaccination to school children aged 3 or above.  Over 600 students participated in the event.
If anyone could not attend the group vaccination, parents could choose other venues and dates for their children to be vaccinated.  It takes the body at least two weeks to produce antibodies after the vaccination.  The Health Bureau advises that parents should have their children aged 3 or above vaccinated as soon as possible.