Campus Instant Image
Online Services(Chinese)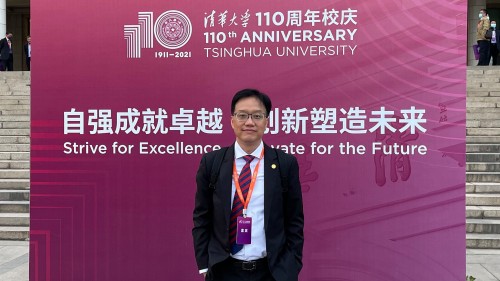 Principal Kou joined the 110th anniversary events of Tsinghua University on April 24 and 25.  This was the second time Principal Kou has been invited to the anniversary celebration of Tsinghua University.  He is also the only secondary school principal in Hong Kong, Macao, and Taiwan who has been invited to the celebration.  
Principal Kou attended the Discovery and Cultivation of Talents Forum on the 24th, followed by the 2021 University Presidents Global Forum, whose theme this year was "Creating Our Future Together: The Vision and New Mission of Universities.  Presidents of top universities such as Yale University expressed their opinions either online or in person on the cultivation of talents.  Principal Kou attended the 64th Student Track and Field Sports Meet on the 25th.  The Tsinghua University 110th Anniversary Dinner Party was held in the evening.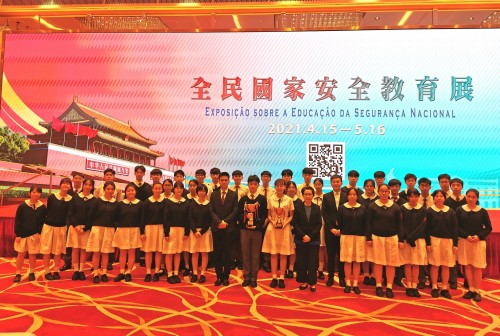 The opening ceremony for the National Security Education Exhibition was held this morning.  Teachers and students from the Pui Ching Choir sang the national anthem in the event.  The "National Security and Me" Writing Competition was held on the same day.  Senior 1A student Cheong Cheng Peng won the first prize in the Senior High Category.  Chief Executive Mr. Ho Iat Seng of Macao presented the award to Mr. Cheong.  Junior 3A student Cheong Ieok Si won the second prize in the Junior High Category.  Mr. Cheong Cheng Peng was interviewed today by CCTV, TDM, and other media and talked about the younger generation's view on national security.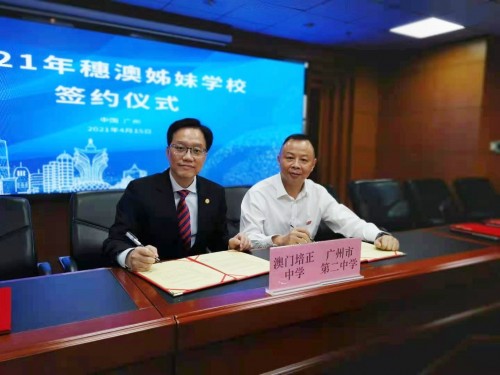 Pui Ching principal Kou Kam Fai attended a sister school contract signing ceremony today with Guangzhou No. 2 Middle School and Guangzhou Qixing Primary School respectively.
In the afternoon, Principal Kou signed the contract and became sister schools with Daliang Experimental Primary School in Foshan.  It is hoped that cooperation between Pui Ching and its sister schools can facilitate exchange of ideas between the students.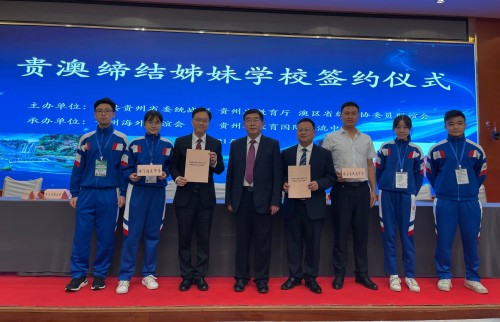 Senior 2D students U Wai Ieng, Pao Hon Lam and Cheng Hoi Teng and Senior 1B student Pang U Hang visited Guiyang with Principal Kou from April 2 to 5 and attended a sister school contract signing ceremony with Guizhou Zhenning Middle School.   
Principal Kou expressed his excitement over the event.  He also introduced Pui Ching's development and the outcomes of e-learning as well as innovation education at our school.
During the four days and three nights of our tour in Guizhou, our students learned much about the local culture.  Together with Keang Peng School, we also visited Anshun No. 8 Primary School and engaged in academic exchanges.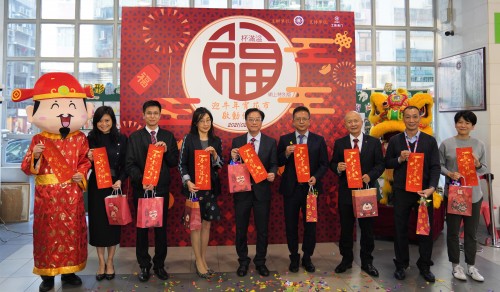 Pui Ching Middle School held the opening ceremony for the Year of the Ox Lunar New Year Fair on February 4.  To comply with social distancing regulations, this year's New Year Fair was held online.  It gave students an opportunity to experience traditional Chinese culture and put into practice the knowledge they learned in the classroom about entrepreneurship. 
Principal Dr. Kou Kam Fai, Vice-Principal Mr. Kuok Keng Man, Vice-Principal Dr. Chan Keng Lim, and various school administrators attended the opening ceremony with General Manager Mr. Lo Seng Kong and Deputy General Manager Mr. Chan Sam I of the retail business department of the Industrial and Commercial Bank of China.  Dr. Kou mentioned that students benefited much from the Spring Festival Fair Marketing Curriculum jointly opened by Pui Ching and ICBC.  This year presented a new challenge to students as the New Year Fair was moved online, but the challenge gave students a great learning opportunity and allowed them to assemble student-designed products into fortune bags to be sold online.  The fortune bags were received well since their launch and were sold out quickly.  
The Lunar New Year Fair gave students the opportunity to combine their knowledge in business, design and science, visual arts and STEAM and apply it to the planning and execution of business projects in real life. 
As usual, proceeds from the Pui Ching Lunar New Year Fair go to charity purposes.  It is hoped that the event can not only allow students to learn from practice, but also spread love and warmth to those in need.