Campus Instant Image
Online Services(Chinese)
Pui Ching Middle School and Yung Wing School of Zhuhai became sister schools yesterday. Principal Kou Kam Fai of Pui Ching Middle School and Principal Li Dong Ping of Yung Wing School signed the contract at Pui Ching Middle School yesterday morning.  The two schools are dedicated to promoting education cooperation between Guangdong and Macao, enhancing curriculum research, and fostering talents.
After the contract signing ceremony, the two schools exchanged ideas on their education philosophy, mission, vision, purpose, and curriculum features.  Director Fan Mei Va of the English Department, Deputy Director Ng Hong Chao of the English Department, Director Lao Kun Wa of the Department of Innovative Technology, Primary School Academic Affairs Director's Assistant Ms. Chong Wai Leng, and Primary School Deputy Director Leong Mei Nong of the English Department each introduced the development and success experience of their department in recent years.
Representatives of Yung Wing School observed some of our teachers' lessons and were given a tour of our school, including the China Culture House, Innovative Science Education Center, the Lego Room, and the library.  Our guests were impressed by our education philosophy, the cultural atmosphere of our school, our individualized curricula, as well as our innovative technology curriculum and learning outcomes.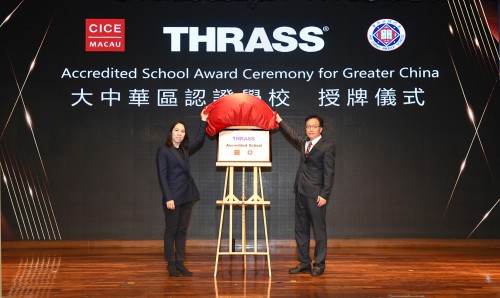 On December 14, Pui Ching was awarded the plaque for "THRASS Accredited School in Greater China".  Dr. Kou Kam Fai, Principal of Pui Ching Middle School, and Dr. Fu Mei Kei, Executive Director of the Center for International Cooperation in Education (CICE Macao), presided over the unveiling ceremony.
Principal Kou expressed that being awarded the THRASS certification is an affirmation of the school's education achievements in English, and this is an outcome of the school's continual use of THRASS teaching tools for many years to improve students' English spelling, reading and writing skills. The THRASS Institute has had 25 years of practical experience since its establishment.  The spelling, reading and writing skills developed by THRASS have been adopted in Europe, Australia, America, Asia, and Africa. It is a simple, fast and effective method for learning English pronunciation which is suitable for students who are not native speakers of English. After obtaining the THRASS certification in Greater China, we will be sharing THRASS teaching resources with teachers in the Greater China Region, and we will be organizing student events like the THRASS spelling competition. Through exchanges and cooperation with THRASS certified schools, we will be providing a platform for teacher-student interactions so that more Chinese students can experience the fun of learning English.
Pui Ching has introduced THRASS spelling, reading and writing learning tools into its teaching since 2011. From 2011 to 2015, the study and data analysis of pupils' spelling, reading and writing ability in our school showed that after students used the THRASS tools, their spelling accuracy improved significantly; students showed more confidence in reading and increased interest in reading; applying spelling, reading and writing skills to their writing reduced their stress in English learning. In addition, in order to strengthen student interest in learning THRASS spelling, reading and writing, Pui Ching organizes THRASS Spelling Bee competitions every year to provide students with a platform to showcase their learning outcomes.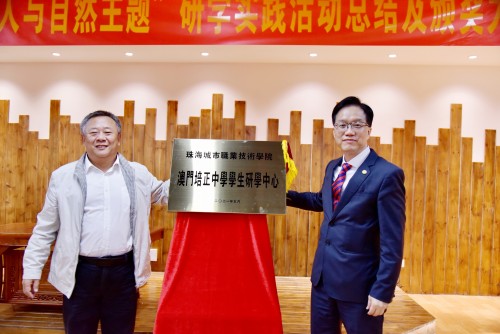 Pui Ching Middle School and the Zhuhai City Vocational and Technical College jointly established the Student Research Center on December 10.  Fifteen senior high students from Pui Ching participated in the Biology and Medicine Pilot Program yesterday at the Zhuhai campus of Zunyi Medical University.  The event was organized by the Research Center.
In the Biology and Medicine Pilot Program, students learned both theories and anatomical techniques.  The curriculum also offered life education, which taught students to cherish and respect life.  Due to the pandemic, teachers and students had to travel between Zhuhai and Macao daily for classes, but this did not diminish their enthusiasm.  Participation in the program also gave the students a chance to experience the local school life and increase their understanding of the social, economic, and educational developments in the Greater Bay Area.  During the program, five of our students received the Outstanding Participant's Award.  The award winners are Tsang Ut, Cheng Man Hong, Lei I Lam, Tek Chon Hei, and Hong Si Kei.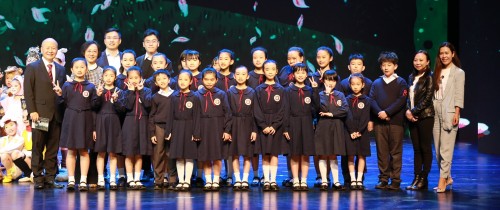 The children's symphonic fairy tale "Peter and the Wolf" was grandly staged in Zhuhai at the Huafa Zhongyian Grand Theater on December 11.  The musical was orchestrated under the guidance of the Publicity Department of the Liaison Office of the Central People's Government in the Macao S.A.R. and the Zhuhai Municipal Committee of the Communist Party of China; it was organized by the Civil Affairs Bureau of the Hengqin Guangdong-Macao In-Depth Cooperation Zone.  Supporting units for the performance included the Macao Cultural Affairs Bureau, the Macao Education and Youth Development Bureau, the Zhuhai Municipal Bureau of Culture, Broadcasting, Television and Tourism, and the Zhuhai Education Bureau.
Twenty-two students from the primary school choir of our school were invited to participate in the performance, along with left-behind children from rural Hunan, the Hengqin No. 1 Primary School Choir, the Zhuhai No. 1 Middle School Symphony Orchestra, the Zhuhai Youth Orchestra of Huafa Zhongyian Grand Theater, and young actors from the Hunan Acrobatic Troupe.
Vice-Principal Kuok Keng Man, Director Fung Sio Han, and Deputy Director Lok Kim Fung were invited to watch the premiere of the musical. Vice-Principal Kuok Keng Man delivered a speech before the musical performance, introducing our school's efforts in organizing English charity musicals every year in recent years.  He expressed that this performance would help to broaden students' horizons and promote exchanges among students in the Hengqin In-Depth Cooperation Zone.
Instructors that provided guidance for our students' performance included Mr. Ho U Kun, Ms. Tou Sin Iong, and Mr. Leong Chi Lam.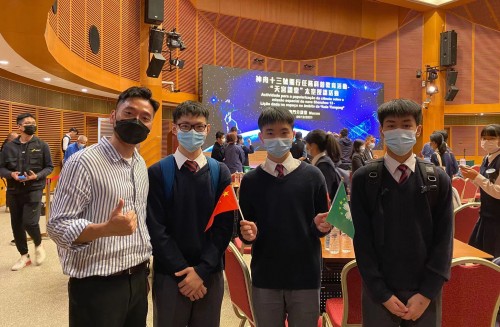 Astronauts of the Shenzhou XIII manned spacecraft Zhai Zhi Gang, Wang Ya Ping, and Ye Guang Fu broadcasted a live lecture from space this afternoon to secondary and primary school students around the country.  Pui Ching students Zhang Jing Ping, Un Chong Un, and Hong Ut Chio attended the live video conference at the Macao Science Center.  Senior 1 and Senior 3 students and students of the Astronomy and Meteorology Club watched the live broadcast at school.  The live lecture spread much knowledge about manned spacecrafts and was well received among students.  The conference session had great educational value and piqued student interest in aerospace technology.