Campus Instant Image
Online Services(Chinese)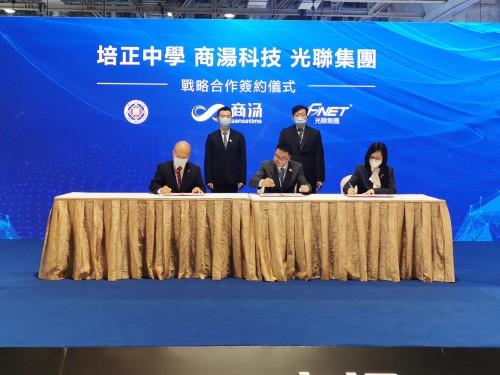 Our school management and teachers from the Mathematics Department and Technology Department visited Beyond Expo Macao 2021 this afternoon.  On behalf of our school, Vice-Principal Kuok Keng Man signed a partnership agreement with SenseTime Artificial Intelligence Software Provider and United Radiant Technology Corporation.  Partnership with SenseTime and United Radiant has allowed us to achieve great outcomes in AI education over the years.  With the signing of our new agreement, we look forward to opening a new page in technology education.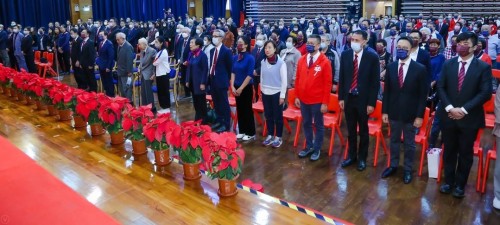 Today is Pui Ching's Alumni Day.  Many graduates of the school returned to our alma mater for the celebration ceremonies.  The event hosted alumni celebrating their 65th anniversary, 50th anniversary, 45th anniversary, 40th anniversary, 35th anniversary, and 25th anniversary respectively.  Principal Kou Kam Fai, President Wong Hon Kin of the Alumni Association, former principals Hong Hin Ieong and Lei Cheong Lap, and teachers that have taught the graduates all gathered for the special day.  Many alumni sponsored scholarships for current students and activity funds for retired teachers and the Alumni Association.  The anniversary dinner was held at the Federal Restaurant in the evening and hosted over 300 guests.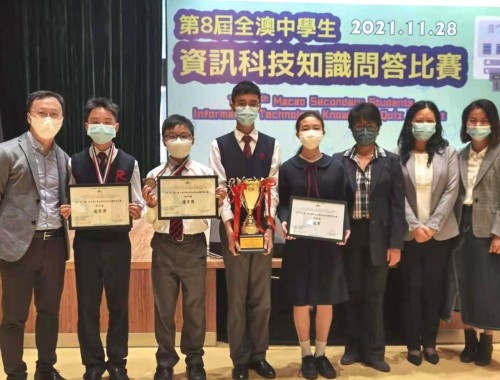 The 8th Macao Secondary Students Information Technology Knowledge Quiz Contest has concluded.  Junior 2 students Kuok Chi U and Chio Lok Man won the championship in the Junior High Category.  Junior 1 students Chong Tin Kin and Lei Tek Long won the Merit Award.
Over 400 students attended the contest.  After an elimination contest and a preliminary contest, a total of 8 teams made their way into the finals for the Junior High Category.  Contestants were required to demonstrate their knowledge in computer networking, computer hardware, software applications, general knowledge in information technology, and the latest trends in the industry.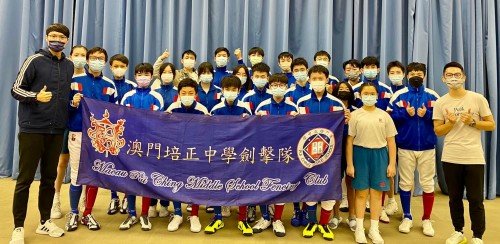 The Pui Ching Fencing Club participated in the 2021 Macau Children's Fencing Championship last Saturday and Sunday.  Our young fencers competed in the tournament right after the examination week and demonstrated outstanding tenacity during the competition.  Award winners are as follows.  Congratulations to our young athletes!
U16 Men's Saber:
Champion: Che Chou Kit (Senior 1F)
Second runner-up: Cheng Pak Hou (Senior 1C)
U16 Men's Epee:
First runner-up: Tai Wang Chon (Senior 2E)
U16 Men's Foil:
First runner-up: Chou Pok Iong (Senior 2A)
Second runner-up: Iong Chak Chong (Senior 1A)
U14 Men's Foil:
Second runner-up: Wong In Chi (Junior 2D)
U12 Men's Foil:
Champion: Leong Chit Lam (Junior 1D)
Second runner-up: Cheong Pak Kio (Junior 1A)
U12 Women's Foil:
Champion: Lam Chi U (Junior 1C)
Second runner-up: Ieong Weng I (Primary 6B)
U10 Men's Foil:
First runner-up: Leong Chit Seong (Primary 5B)
U10 Women's Foil:
Second runner-up: Lei Cheok Kio (Primary 5D)
Second runner-up: Chan Hong Cheng (Primary 5E)
In addition, Senior 2E student Tai Wang Chon won the third place in the individual competition for Men's Epee in the Adult's Category of the 2021 Macau Fencing Championship held on November 13 and 14, 2021.  Congratulations again to all our award-winning athletes!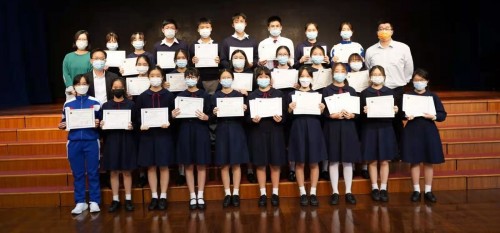 The 2021 Hong Kong-New York International Youth Science Fair for Discovery Videos was held from October 1 to 4.  Due to the pandemic, the Science Fair was held online.  It consisted of a Chinese and English session.  Eleven entries from our school entered for the competition and our students won two HMA Best Science Video Awards, one HMA Special Award, six First Prizes for Outstanding Science Microfilm, four Second Prizes for Outstanding Science Microfilm, and one Third Prize for Outstanding Science Microfilm.